Agricultural Buildings
Equestrian Stalls, Arenas, Hay & Implement Storage 
Agricultural Pole Buildings
For Your Farm, Ranch or Nursery
Locke Buildings has become the most trusted pole building company in the Pacific Northwest. We have built over 3000 post frame buildings.   We build agricultural pole buildings in Clackamas County, Washington County, Linn County, Marion County and surrounding areas.   If you are located in Oregon or Washington we also provide complete pole building kits that you can assemble yourself or hire a local contractor to build for you.  Our experience with farm buildings makes our design and engineer teams vital to getting you the best building for your farm or ranch needs.   When your valuable equipment or beloved animals are at stake make your ag building a Locke Building.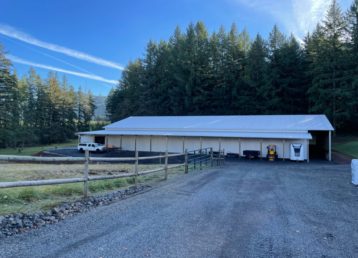 Equestrian Arena
Pole buildings are great option for maintaining a dirt floor for a riding arena or horse stalls.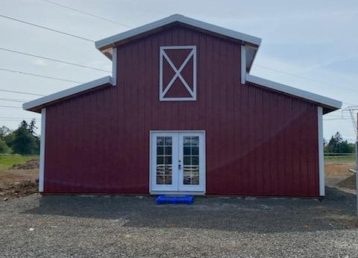 Animal Barns
Pole Barns don't have to be ugly!  We can design a cute barn for your farm property.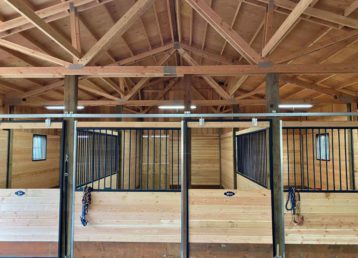 Clear Span Barns
Up to 100ft clear span. Great for horse stalls, riding arenas, hay barns, & implement storage.
Locke Buildings now offers complete pole building kits ready for DIY installation or professional build. Your kit can be completely customized using our 3D designer software or by scheduling a call with one of our experienced designers ready to give you the best customer service in the industry.
Why Choose Locke Buildings for Your Pole Building?
1. Pacific Northwest Expertise: Based in Estacada, Oregon, we understand the specific challenges and requirements of building structures that can withstand the region's weather conditions. Our team leverages their deep local knowledge to design and construct pole buildings that stand strong against rain, wind, and other environmental factors. 
2. Customization at Its Finest: Your needs are as unique as your property, and we embrace that individuality. Our team works closely with you to create a design that meets your specifications, ensuring that every feature, dimension, and layout detail aligns with your vision. Whether you're looking for an expansive indoor riding arena or a functional farm storage space, we'll bring your dreams to life.
3. Premium Quality Materials: We are committed to excellence in every aspect of our work. That's why we only use the finest materials available. From robust wooden poles to high-quality steel, every component of your building will be sourced for durability, longevity, and aesthetic appeal.
4. Expert Craftsmanship: Our team of skilled craftsmen takes pride in their work, and it shows in the finished product. With years of experience, a keen eye for detail, and a dedication to precision, we guarantee a pole barn or building that not only meets your expectations but surpasses them.
5. Comprehensive Services: From the initial design consultation to the final nail, we're with you every step of the way. Our services encompass site assessment, permitting, construction, and even interior finishes. We believe in a seamless and stress-free experience for our clients.
Our Pole Building Offerings:
Horse Arenas: Create the perfect space for training, riding, and caring for your horses. Our horse arenas are designed with equine safety and comfort in mind, and we can incorporate features like proper ventilation, natural lighting, and secure stalls.
Farm Use Barns: Whether you need a barn for livestock, equipment storage, or a combination of uses, our farm-use barns are designed to maximize functionality and efficiency. With customizable layouts and options, your barn will suit your exact needs.
Indoor Riding Arenas: Don't let the weather dampen your riding plans. Our indoor riding arenas provide a controlled environment for year-round training, rain or shine.
Contact Us Today for Your Pole Building Project!
The Pole Building Experts