Pole Building Kits
Materials & Plans for DIY Pole Builders
Home Owners
Custom Pole Building Kits Ready Made for DIY
Many people would like to build their own projects, but are uncertain of one or more phases of construction. Locke Building offers free consultations that allow you to better evaluate what makes sense and what will produce the greatest cost savings.  You can design and build your own kit using our designer software or we can do everything from engineering, permits and construction. 
Contractors
Custom Pole Building Kits for a Faster Build
Locke Pole Building and pole barn kits are custom for each job. We assemble your building kit to include everything to make your build go faster and cost less. Your company can rely on us to deliver on time and on budget anywhere in the Pacific Northwest.!
Frustration Free Pole Building Kits Make Post Frame Building  Fast and Easy
What goes in to a Locke Pole Building Kit?
Every Locke Building kit starts with YOU.
Depending on the style of building you desire, usage, and building site, we will design a post frame pole building kit that will suit your needs. Want to design it yourself? We now offer a complete DIY pole building designer app to build a custom pole building kit.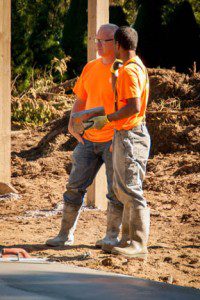 Locke Buildings offers the best solutions for your unique job site location including any necessary site preparation. We can help you with County and or City requirements or we can complete the permit work for you. We provide complete "Do It Yourself Plans" and engineering when needed. Locke Building kits come delivered with all the materials for your project, right down to the nuts and bolts, vents, flashing, doors, windows, roofing material and siding. Make your next pole barn a Locke Building!
Pole Building Kits will Help Your Build Go Faster!
Want to design it your self? We now offer a complete DIY pole building designer to customize your pole building kit.
The Pole Building Experts