One could say that concrete is foundational at the core of every successful building project.  What I will say is that if you are interested in a concrete project, from driveways, sidewalks, shop floors, foundations, or any other concrete flatwork, Locke Buildings is your trusted partner to get it done correctly.
Locke Bulding Crew Pouring Concrete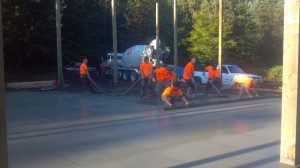 Pole buildings many times have concrete floors.
Agricultural buildings can have concrete as well as plumbing and electrical.
A minimum of 3000lb. strength and 4" for concrete is required. But Locke Buildings recommends 3500lb concrete for extra strength.
A minimum of 4" thickness is required but based on use, thickness and strength of concrete could be increased. As well wire mesh and rebar are used to reinforce concrete floors.
Locke Buildings can assist you in better to determine what would be best fit for your application.
56'x40' Shop Floor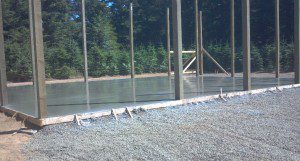 Smooth finish makes it easy to roll tool boxes around.
Cure and Seal makes for easy clean up and prevents staining.
Garage With Bathroom Plumbed For Future Apartment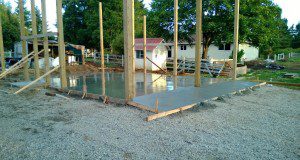 Plumbing or electrical lines can be installed under concrete.
Pole building can have bathrooms.
Driveways


Locke Buildings can remove and replace your old driveway and make the new one stronger.
Sidewalks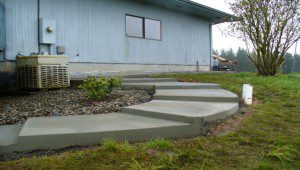 Locke Buildings know how to establish grades for even complex elevation changes and give a beautiful finish.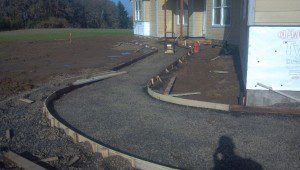 We work with home owner from design phase to completion.
Stamped Colored Concrete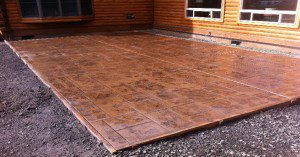 Stamped concrete is available in many patterns and colors.
Cure and Seal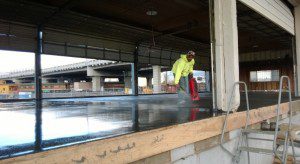 Cure and sealing concrete creates a shell over concrete which will protect from oil stains.
If applied directly after pour cure and seal will soak in to concrete making surface of concrete harder.
Makes for smoother finish for sweeping.
Compaction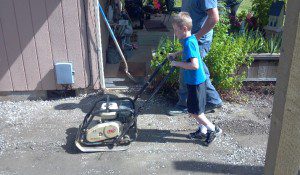 Compaction is critical for concrete stability.
Compacting should be done in 2-3" layers of rock if using standard plate compactor. It helps to run water on rock you are compacting.
Locke Building does not recommend using dirt for fill under concrete.
Vapor Barrier Under Concrete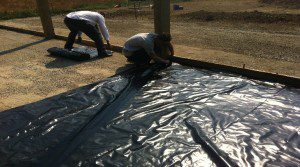 Black 6mil plastic vapor barrier used directly under concrete.
The main purpose is to stop moisture from coming up through concrete.
Locke Building recommends lapping minimum of 24" and taping seams.
Vapor barrier can increase surface cracking of new concrete. The main reason is concrete needs to cure as even as possible. When vapor barrier is installed moisture evaporating out of new concrete is forced to evaporate through top surface only. It is highly recommended to use cure and seal when using vapor barrier.  Avoid  pouring on hot days.
Control Joints/ Expansion Joints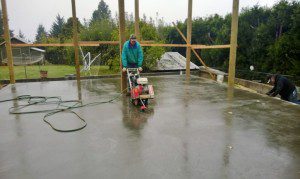 Control joints, or expansion joints are used to control where concrete cracks.
Locke Buildings prefers to cut control joints. Saw cutting maintains a clean look.
Saw cutting should be done soon after concrete pour and cut a minimum of 25% of depth of concrete.
Cutting concrete makes concrete a little weaker and encourages it to crack there. Locke Buildings normally will cut concrete from pole to pole on pole buildings. .
Next Generation.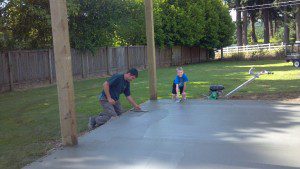 Training next generation how to build the Locke Building way. The Old Way- TO LAST!