Download an installation manual.
Siding offers a large range of options and colors.  Here are a few for your consideration.  Please contact us directly for more information.  Want to know more about our color options?
Our 3' metal Siding and Roofing are structurally rated.
Most of our metal Siding and Roofing has a 40 year  warranty.
Sale material available. Call for pricing.
MAGNA RIB
The product is pre-painted!
Full 36" net coverage. Normally 29ga.
Purlin-bearing edge for strength while fastening side laps.
Anti-siphoning side lap.
8 intermediate stiffening ribs add extra strength to this panel.
Custom lengths 3' through 40'0" in cut-to-length 1" increments.
 3' PBR
The product is pre-painted!
Excellent for commercial and industrial applications.
26 gauge full hard (80 ksi) steel.
PBR panels require a minimum slope of 1:12.
UL90 rating for PBR panels when attached to steel purlins.
Custom lengths 3' through 40'0" in cut-to-length 1" increments.
 Roof & Wall Screw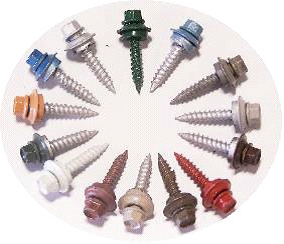 High hex washer head provides driving stability.
Assembled with a control seal washer for a consistent, weather tight seal.
Alternate mechanical zinc (.001″ min thick) plus Silver Sentri™ coated offers increased corrosion protection.
Board and Batt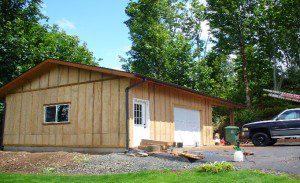 Board and batt can be stained or painted.
We use 5/8" rough sawn T-111 plywood sheeting.
Batts can be 1×2, 1×3,or 1×4 .
Batts spaced to customers preference. (Picture above batts are 1×2 at 12" spacing).
T-111 Plywood Siding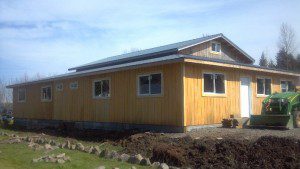 Standard 5/8" T-111 siding with groves at 4"and 8".
T-111 is structural. Usually do not need sub siding.
Can be painted or stained.
Cement Fiber Lap Siding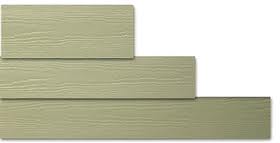 Cement fiber lap siding is very  popular in new home construction and can be used on pole buildings.
Must have structural sub siding.
Must be painted.
Steel Lap Siding  
Metal lap siding  has the aesthetic value of traditional siding without the maintenance.
No seams. Cut to length.
Pre-painted.
Requires subsiding.
Cement fiber siding with board and batt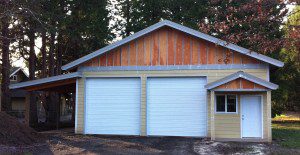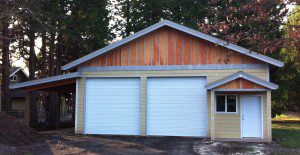 You can use any number of siding products and combination of siding components with pole buildings.